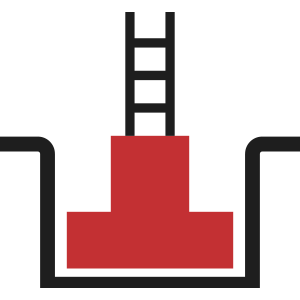 We can handle any size of foundation required for a project, as well as wall sizes from low to high gang-formed walls with extensive rebar. Our Symons Form System allows us to produce a high-quality product in just a short period of time.

Gang-formed concrete walls

Tie rebar

Pour concrete
We partner with designers and architects who create homes with efficiency in mind, making your space more economical and eco-friendly. As one of the first to use Insulated Concrete Forms (ICFs) in the Rhode Island area, we bring our expertise to every project, building homes with greener foundations.

Fast construction

Pour concrete year round

Lower heating and cooling costs

Maximize space

Quiet homebuilding

Eco-friendly methods

100% recyclable concrete materials
Waste is a huge concern on job sites, but with Ferreira Concrete Forms, Inc. the concern is no longer yours. We can supply job sites with a 20- to 30-yard dumpster for all waste, concrete or debris. FCF can also design, build and maintain waste services for existing buildings, utilizing 20- to 30-yard compactors.
Waste Management Services
30-yard construction debris dumpster




20-yard construction debris dumpster




20-yard concrete recycling dumpster




20-yard metal recycling dumpster




Custom compactor service
Helical piles are suitable for both commercial and residential projects regardless of size. These steel anchoring systems are cost and time efficient, while providing a solid deep foundation. Each helical can be loaded with up to 500 tons per pile. Helical piles allow us to build where others can't, which is just another way we can make you a strong foundation.
Why Consider Helical Piles
Soil movement occurs as weather patterns and moisture levels fluctuate. This movement damages millions of homes annually by shifting the foundation, causing uneven flooring, cracks in the walls and ceilings, and a potential loss on your investment. Helical piles prevent foundational shifts by ensuring your home or business can withstand changing soils on a deeper level.

Possible Applications
Tie-back applications




Boardwalk construction

Foundation repair

Concrete-free foundations

Tilt-up construction

New commercial projects

Utility supports

Pylon signs
Helical Advantages
Eco-friendly


Cost effective

Fast installation

Installation in any weather

Low noise

No vibration

No curing time

No overburden

Effective engineering

Site-verified loading
Project scope may include
Utility and pipeline tie downs

Tiebacks and wall anchors

Deep foundation piers for new construction




Underpinning commercial and residential structures




Boardwalks, bulkheads, and seawalls

Temporary and reusable wall anchors

Slope stabilization




Concrete slab lifting and stabilization

Shoring
Do You Need Helical Piles? Look for these indicators in your home or business:
Cracks in the drywall and ceilings

Doors that stick

Gaps between walls and ceilings

Nails coming out of the drywall

Windows that aren't square or are sticking

Cracked or uneven flooring

Gaps between walls and floors